The DAX Futures is trading at 12,302.50  with  a loss of -0.25% percent or -30.50 point .The FTSE 100 Futures is trading at 7,510.00  with a loss of -0.16% percent or  -12.00 point. The CAC 40 Futures is trading at 5,314.45  with a loss of -0.043% percent or -2.31 point .  The EURO Stoxx 50 Futures is trading at 3,398.00 up with +0.03% percent or +1.00 point.
TODAY'S FACTORS AND EVENTS
The DAX is coming off another rough week, in which it declined 1.5 percent. Recent trade tensions are threatening to hamper the eurozone export sector, which in turn could weigh on manufacturing output. Investors are keeping a close eye on Germanand eurozone manufacturing PMIs, which are bellwethers of the strength of the manufacturing sector. In June, the German and eurozone readings pointed to expansion but also continued a downward trend. Both PMIs have now dropped for six straight months, raising concerns among investors about the strength of the eurozone economy. Germany, the locomotive of the eurozone, produced soft consumer numbers last week. Retail Sales plunged 2.1%, its steepest decline in 2018. As well, Preliminary CPI fell to 0.1%, down from 0.5% a month earlier.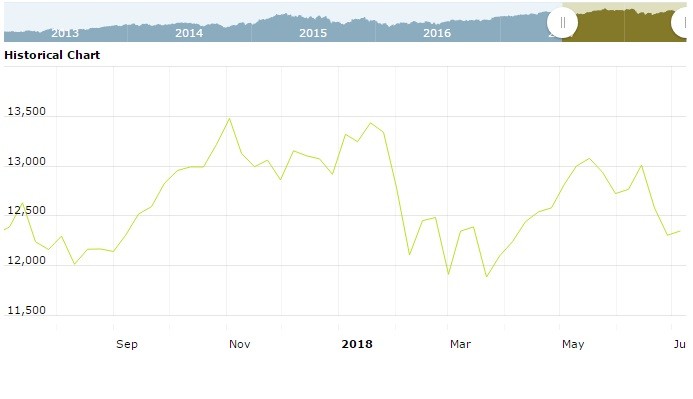 For the day Germany's DAX closed at 12,324.37  with a loss of – 0.20% percent or -24.77 point. the FTSE 100 closed at 7,577.16 with a loss of  -0.21% percent or  -16.13 point. France's CAC 40 closed at 5,315.99

 

with a loss of  -0.014% percent or  -0.77 point.
WORLD MARKETS
For the day the Dow is trading at 24,174.82 with  a loss of -0.54% percent or  -132.36 point. The S&P 500 is trading at 2,713.22  with a loss of -0.49% percent or -13.49 point. The Nasdaq Composite is trading at 7,502.6  with  a loss of -0.86% percent or -65.01 point.
In other parts of world, Japan's Nikkei 225 is trading at 21,717.04 with a loss of -0.31% percent or -68.50 point. Hong Kong's Hang Seng is trading at 28,267.71 with a loss of -0.97% percent or -277.86 point. China's Shanghai Composite is trading at 2,759.13  with a loss of -1.00% percent or -27.76 point. India's BSE Sensex is trading at 35,524.31 up with +0.41% percent or +145.71 point at 12:15 PM.