The DAX Futures is trading at 12,980.80 up with +0.49% or +63.80 point. The FTSE 100 Futures is trading at 6,237.00  with  a loss of -0.33% percent or -20.70  point. The CAC 40 Futures is trading at 5,075.00 with a loss of -0.20% percent or -10.00 point.The EURO Stoxx 50 Futures trading at 3,368.00 up with +0.27% percent or +9.00 point.
TODAY'S FACTORS AND EVENTS
Taking a longer-term viewpoint on the market, meaning more than a year out, it seems that for stocks to continue to rise, they will have to do it without the benefit of fundamentals. It will need to all come in the form of multiple expansion, which will not be easy given multiples are already higher. Now that we have passed the mid-point of 2020, it seems appropriate to begin to focus more on 2021 and the possibilities for 2022.
YESTERDAY ACTIVITY
For the day Germany's DAX closed at 12,997.17 up with +0.60% percent or +77.56 point.the FTSE 100 closed at 6,272.77 with a loss of –0.28% percent or –17.53 point. France's CAC  40 closed at 5,080.12 up with +0.21% percent or +10.70 point.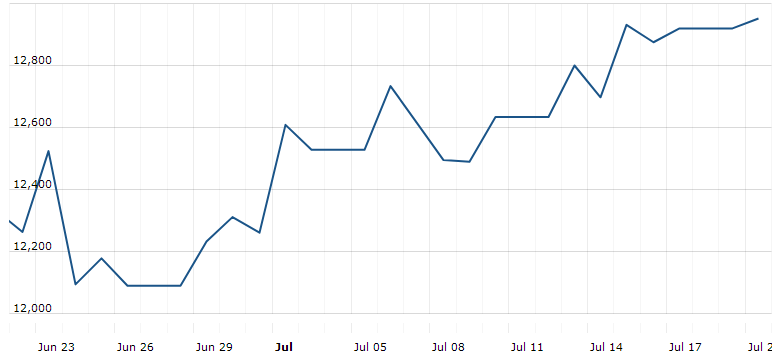 WORLD MARKETS
For the day the Dow is trading at 26,671.95  with a loss of -0.23% percent or -0.23% point. The S&P 500 is trading at 3,224.73 up with +0.28% percent or +9.16 point. The Nasdaq Composite is trading at 10,503.19  up with +0.28% percent or +29.36 point.
In other parts of world, Japan's Nikkei 225 is trading at at 22,717.48 up with +0.093% percent or +21.06 point. Hong Kong's Hang Seng is trading at 25,057.99 with a loss of –0.12% percent or –31.18  point. China's Shanghai  Composite is trading at 3,314.15 up with +3.11% percent or +100.02 point. India's BSE Sensex is trading at 37,418.99 up with +1.08% percent or  +398.85  point at 12:15 PM.