The DAX Futures is trading at 13,257.00 up with +0.42% percent or +54.90 point.The FTSE 100 Futures is trading at 7,325.00 up with +0.40% percent or +29.00 point. The CAC 40 Futures is trading at 5,901.08  with a loss of –0.10% percent or –6.00 point.  The EURO Stoxx 50 Futures trading at 3,704.00 up with +0.33% percent or +12.00  point.
TODAY'S FACTORS AND EVENTS
It was another day on the red for the European majors, with the DAX30 falling by 0.38% to lead the way down. The CAC40 fell by 0.10%, while the EuroStoxx600 ended the day with a 0.01% loss.
News of U.S – China trade talks hitting further problems weighed on the European majors on the day. Perhaps unsurprisingly, the U.S demand for China to purchase $50bn worth of U.S agri has led to a lack of progress on the day.
On Tuesday, the U.S President had stated that China would need to accept and align with the demands of the U.S. The comment suggests that Trump is unwilling to waver, which means that China will either have to accept or face more punitive tariffs
YESTERDAY ACTIVITY
For the day Germany's DAX closed at 13,180.23  with a loss of -0.38% percent or –49.84    point.the FTSE 100 closed at 7,292.76 with a loss of –0.80% percent or  -58.45 point. France's CAC  40 closed at 5,901.08 with a loss of –0.10%  percent or –6.00 point.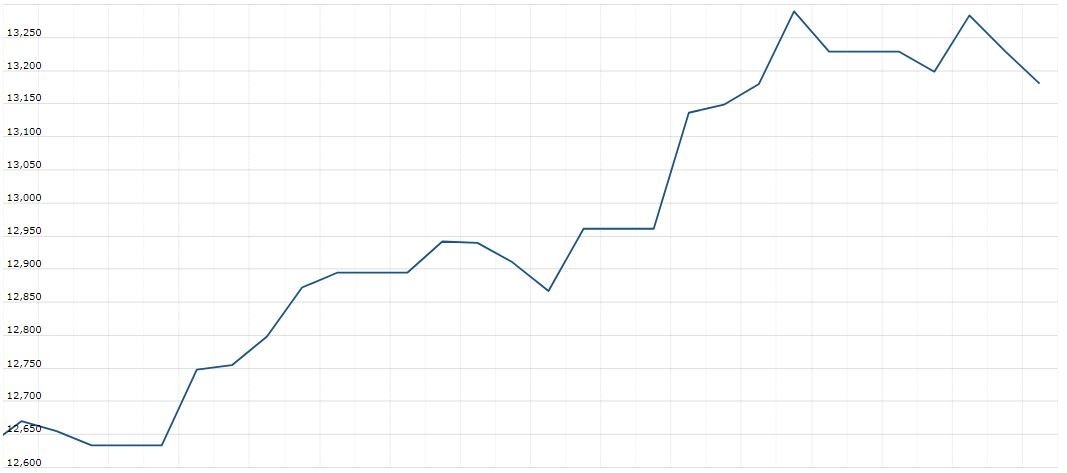 WORLD MARKETS
For the day the Dow is trading at 27,781.96 with a loss of –0.0059% percent or –1.63 point. The S&P 500 is trading at 3,096.63  up with +0.084% percent or +2.59 point. The Nasdaq Composite is trading at 8,479.02  with a loss of –0.036% percent or –3.08 point.
In other parts of world, Japan's Nikkei 225 is trading at 23,303.32   up with +0.70% percent or +161.77 point. Hong Kong's Hang Seng is trading at 26,308.95 with a loss of –0.056% percent or –14.74 point. China's Shanghai Composite is trading at 2,891.34  with a loss of –0.64% percent or –18.53   point. India's BSE Sensex is trading at 40,504.04 up with +0.53% percent or +214.05 point at 12:15 PM.