The DAX Futures is trading at 12,355.50  with  a loss of -0.02%% percent or -3.00 point. The FTSE 100 Futures is trading at 7,397.80 up with +0.13% percent or +9.30 point. The CAC 40 Futures is trading at 5,633.00  with a loss of -0.11%percent or -6.00 point. The EURO Stoxx 50 Futures trading at 3,534.00 p up with +0.11% percent or +4.00 point.
TODAY'S FACTORS AND EVENTS
A 2nd consecutive day in the green wasn't enough to reverse losses from earlier in the week, however. The CAC40 ended the week down by 0.88%, with the DAX30 and EuroStoxx600 falling by 0.70% and 0.71% respectively.
Gains at the end of the week came in spite of impeachment talk in the U.S and political chaos in the UK.
Support came from hopes of progress in U.S – China trade talks that are set to resume in Washington on 10th October.
Even disappointing economic data failed to pull the majors into the red on the day.
PREVIOUS DAY ACTIVITY
For the day Germany's DAX closed at 12,370.90 with a loss of -0.08% percent or –9.54 point.the FTSE 100 closed at 7,426.62 up with +0.0055% percent or +0.41 point. France's CAC  40 closed at 5,635.08 with a loss of –0.098% percent or –5.50 point.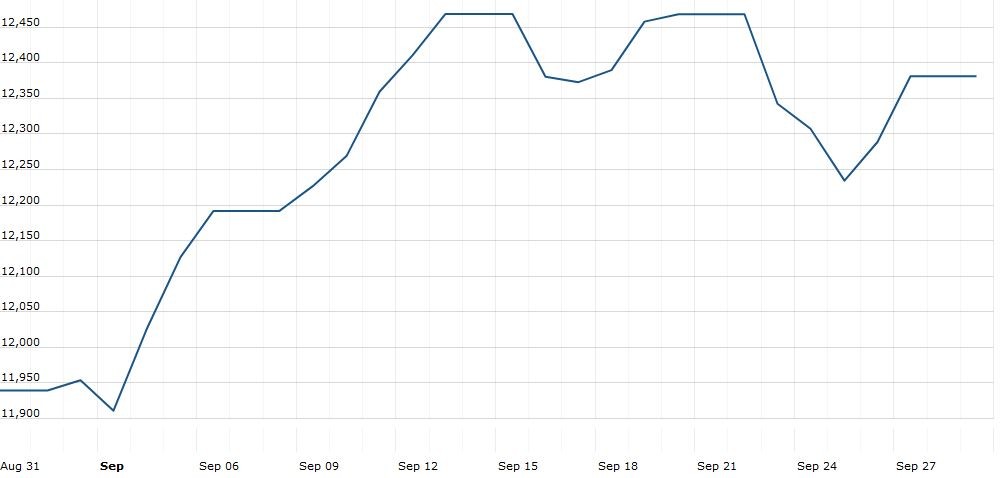 WORLD MARKETS
For the day the Dow is trading at 26,820.25 with a loss of  –0.26% percent or –70.87  point. The S&P 500 is trading at 2,961.79 with a loss of –0.53% percent or –15.83 point. The Nasdaq Composite is trading at 7,939.63  with a loss of –1.13% percent or  –91.03 point.
In other parts of world, Japan's Nikkei 225 is trading at 21,755.84 with a loss of –0.56% percent or –123.06 point. Hong Kong's Hang Seng is trading at 26,032.90 up with +0.31% percent or +79.96 point. China's Shanghai Composite is trading at 2,905.19 with a loss of –0.92% percent or –26.98 point. India's BSE Sensex is trading at 38,522.39 with a loss of  –0.77% percent or –300.18 point at 12:15 PM.